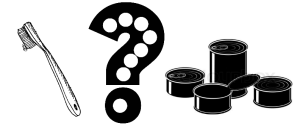 That's right, both are stored in cabinets! The toothbrushes in a vanity or medicine cabinet and the food in the kitchen or pantry cabinet.
While in your kitchen, take notice of how well your cabinets are functioning. Do the drawers operate smoothly? Are the doors opening & closing properly?
When you are in the bathroom, see if the vanity drawers & doors are being left open because they will not close.
If a problem is established be sure to give BSR a call. We can take care of your toothbrushes and your canned goods!