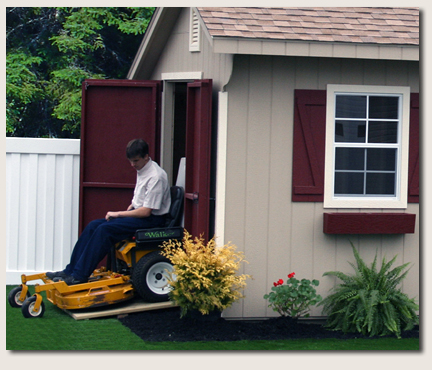 This past week BSR Service's performed some repair work on two sheds. The complaint on the first shed was that it is out of level and the floor was very soft. After taking a close look at the shed, we concluded that it was designed to house rakes, shovels, a wheelbarrow and maybe a push lawn mower (at the most). So when the customer drove his 12 horse power lawn tractor through the doors, into the shed, it felt like the customer was on a trampoline.
We gave the customer an estimate to solve his shed problem; he accepted the price and asked when we could start. We started the following week. The solution was to cut out the existing floor boards, jack up the shed, install additional larger floor joists, pour six concrete piers and lower the shed back down onto the piers.
The happy customers could not believe the difference and left a note with the payment that read; "Thanks, we appreciate your work and are very satisfied! I've shared your name with some of my colleagues."
Another problem checked off the honey-do list and another happy BSR Service's customer!
Stay tuned next week for the repair solution on the second shed.