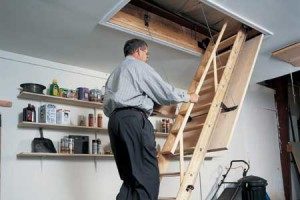 This time of year we are putting away all of our Christmas decorations. For a lot of us this means using pull-down staircases to access the storage area. Last week I got a call from one of my regular customers, telling me that he had some fill-in work when I had time. He said he needed to replace the existing pull down stairs in order to access his attic and that the new stairs were in the garage.
The next day I had time.
When I arrived, his wife had just put away all their Christmas decorations for their huge house and front yard. She must have gone up and down those stairs a couple of dozen times. When I pulled the stairs down, the unit seemed very loose; some hinges were bent and a couple of steps were broken. The stairs are engineered to be installed using 16- 3 ½" nails or lag bolts. This one had six 2" drywall screws & two of them had snap off leaving only four. I removed the old stairs and installed the new ones in a couple of hours.
Do you know someone in your family that uses one of these pull down stairs? Have them check for safety. Then call BSR.