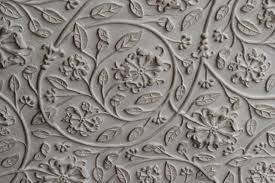 This week I performed one of my favorite jobs; drywall repair!
The customer I worked for just bought a beautiful home in Londonderry and they noticed a small water stain in their gorgeous dining room custom textured plaster ceiling. The ceiling has rosettes, swirls & sunbursts around the lights.
The home owner, in an effort to save the ceiling, called a plumber to find out if there was a leak somewhere.
Unfortunately, in an effort to find the leak the plumber cut a hole in the ceiling, and then several more in other walls before the leak was found. It ended up being a towel bar in the second floor bathroom that was fastened to a 4" drain pipe behind the toilet.
The homeowner now knows where the leak is coming from but has several holes to be repaired; including the one in that beautiful ceiling. In order to solve this dilemma the home owner ended up calling BSR and we were able to restore her ceiling to make it look like nothing ever happened!